It's been two months since I've last written a blog post which is pretty bad for a music-dedicated site. This past semester has been hectic, with the last month being a complete blur of papers, projects, Japanese presentations, and book reports. This, however, doesn't prove to be a viable excuse seeing as this blog is one of the few things that makes me feel fulfillment and happiness, so I've really got to work on this whole time management concept people have been telling me about.
In case you were wondering, no, I will not make that a New Year's resolution because I don't believe in that load of garbage. I always strive to improve myself every day, so I don't see the need to set these huge, possibly unattainable goals at the beginning of the year. There are so many curve balls thrown at you in the course of 365 days so it's better to adapt to change rather than force it. Some people, though, really need the start of a new year to motivate themselves, so if they can keep to it, then by all means, どうぞ。
I've been meaning to write on this EP I stumbled upon via Eton Messy, whom I follow for a lot of UK garage, 2-step, and chill tracks, called Make Days Make Brothers by SpeakmanSound. They make up a pair of brothers, Todd and Guy Speakman, who write and produce for the pure pleasure of it, attempting to create music which successfully cross-genres, and also partake in sound design for friends and movie pieces (from what I've seen). Make Days Make Brothers also happens to be their debut EP and hot damn, is it impressive.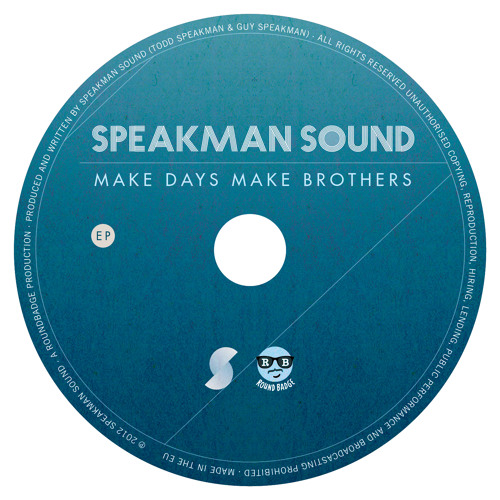 1. Survive This and Dance
This is probably one of my favorite songs of 2012. It opens with a heavy, yet minimalistic bass line interspersed with hi-hats in the background and gradual samplings of vocals. There's a break with some xylophone sounds then the drop into an all-consuming, sexy, and dance-heavy melody. You can hear that the brothers use an actual drum kit, bass, and MIDI gear to create the sounds. With a sampled voice saying "get down" throughout the song it's nigh impossible to stop yourself from dancing to this track. Hands down a gorgeous, well-produced electronic song.
2. Finding Will
With such a strong opening the brothers introduced to us with "Survive This and Dance," they take it down a notch with "Finding Will." This too has a strong bass line with a similar melodic buildup to STAD. It's a subtle song, continuing with the somewhat dark, ominous mood the first track brings out. There are actual vocals to the song though they are indiscernible but really enhance the overall effect of the production. It definitely holds its own in the EP.
3. For Days Spent
I've listened to this song the least on the EP but it's not out of disliking it. For the flow of the EP and setting the mood, this song is perfect in production, placement, and aesthetic. There's a driving, punchy bass line, quiet hi-hats, shakers, and a layering of synths that makes for a hauntingly beautiful song. It's a reflective piece, suiting the overall sentiment of ending a year and beginning anew. I tend to listen to sadder, more nostalgic songs to reflect on how my past year has gone, and this is a fantastic candidate for that thought-process to fully develop. I'm actually tearing up listening to this as I write this post.
What, I get emotionally invested in music, stop giving me that look.
This EP is probably going to be in my playlists for much of the next year even though I've been obsessed for four months already. Keeping my eye on these guys for all of their upcoming releases.
As an aside, when I was finishing this post I noticed Felix Cartal post his 2012 reflection blog entry and apparently we share the same feelings on New Year's resolutions. Kudos to him. You can peep that post here. He's a solid writer (majored in English, if I recall correctly) and had an impressive year for himself.
Happy New Year everyone!
-jo.